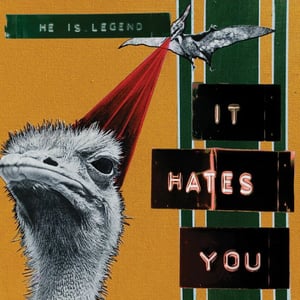 £

7.99
MySpace | Order @ Play.com | Order @ HMV | Order @ Amazon
'It Hates You' marks an eagerly anticipated return for North Carolina's He Is Legend.
Over 12 tracks and 60 minutes, this record is everything you have come to expect from the band: no-nonsense heavy rock - and is packaged with a great 16-page booklet.
Tracklist:
1. Dicephalous
2. Party Time!
3. Everyone I Know Has Fangs
4. The Primarily Blues
5. Cult Of She
6. Stranger Danger
7. Don't Touch That Dial
8. Decisions, Decisions, Decisions
9. Future's Bright Men
10. China White III
11. That's Nasty
12. Mean Shadows
"Beaming with confidence, it may hate you - but you'll love it right back. 8/10" – RockSound
"There are sharp riffs and pulsing dynamics: 'It Hates You' is all about the songs. 3K" – Kerrang!
"Picture huge swathes of Third Eye Blind and Counting Crows infiltrating some dirty beard rock, and there you go" - Alternative Press
"Has that dirty, midwest rock and roll feel - still worthy of your time" - Punktastic
CD's will be shipped within 24 hours of placing your order and we ship worldwide.
LAB014 / THREUR001
– Released 13 July 2009