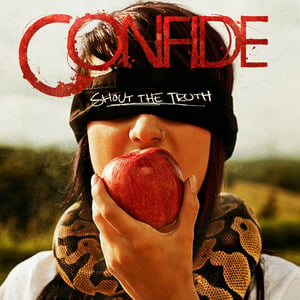 £

7.99
Order @ HMV | Order @ Play.com | Order @ Amazon | MySpace
'Shout The Truth' is the re-released enhanced CD edition of the stunning debut album from Los Angeles' hardcore quintent Confide.
Some 15 tracks long, this UK/Europe edition also features exclusive bonus multimedia content - with 2 videos.
All orders of this record include free worldwide shipping for a limited time.
Tracklist:
1. Millstone
2. Can't See The Forest
3. I Am Scared Of Me
4. City To City
5. Zeal
6. If We Were Sinking
7. 00:00
8. Holes
9. Vultures Among The Dead
10. The Bigger Picture
11. In Reply
12. This I Believe
13. Such Great Heights
14. Role Reversal
15. I Never Saw This Coming
16. Such Great Heights (Video)
17. I Never Saw This Coming (Video)
CD's will be shipped within 24 hours of placing your order and we ship worldwide.
THREUR002 - Released 12 October 2009